History: 2009 GERMANY Update: June 26, 2017
2014 UNITED STATES
2017 worldwide: THE CRYSTAL HEATER HANDBOOK = Workshop, step by step, 250 sides
& Original Soundtrack
Crystalheater 001 + crystal-technology - first presentation: 2009
INTERNATIONAL FAIR TRADE "IDEAS-INVENTIONS-NEW PRODUCT", Germany
Presentation 2011: ESOTERIKMESSE, Meistersingerhalle, Nürnberg, Germany

http://www.patent-de.com/20100909/DE102009011282A1.html Future perspective: heating with crystal-energy
WORKSHOP (Begleitmusik als CD) Original Sound
ORDER (Bestellungen, bitte direkt über): www.costaverdeproduction.com
Test it (only the first song):
https://www.youtube.com/watch?v=NijBot3ZbJU&list=RDNijBot3ZbJU#t=91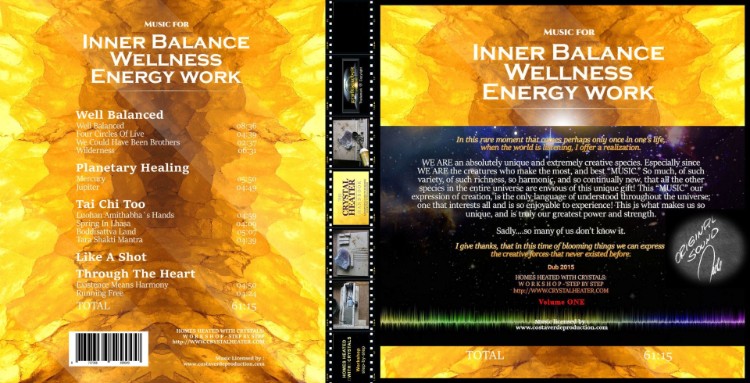 In this rare moment that comes perhaps only once in one's life, when the world is listening, I offer a realization.
WE are an absolutely unique and extremely creative species. Especially since WE are the creatures who make the most, and best, "MUSIC". So much, of such variety, of such richness, so harmonic, and so continually new, that all the other species in the entire universe are envious of this unique gift! This "music," our expression of creation, is the only language understood throughout the universe; one that interests all and is so enjoyable to experience! This is what makes us so unique, and is truly our greatest power and strength!
Sadly….so many of us don't know it.
I give thanks, that in this time of blooming things we can express the creative forces that never existed before.
Rainer Dubrikow - 2015
NEW NEW NEW ... Summer 2017
Book 1: Bauanleitung für Lizenznehmer (in German) - Version 2009
Book 2: Build your own "low energy" Heater: MX & NPU (Nonplusultra) - Version 2015
Book 3: Build your own "low energy" Heater: The Crystal Heater - Version 2017
Book 4: Build your own "low energy" Heater: XM & XX (The Gold Medal Winner) & XSL - Version 2018